Tesco facing growth hurdles
Why the new boss of the supermarket has a growth challenge on his hand.
By 
NickL
 02/03/2011 18:20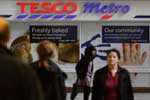 Tesco, Britain's largest retailer, leads the pack in all kinds of areas: UK market share, depth and range of product offering, overseas markets and total profits. However in the last three years Tesco's share price has been treading water. 
With new chief executive Philip Clarke getting his feet under the table this week, his major strategic challenge is how to focus the group's undoubted strengths to sustain growth for the next decade.

The unavoidable problem for the giant supermarket group is that in the UK, which delivers two thirds of sales and the lion's share of profits, growth - profitable growth at least - is going to be harder to come by. With 2,545 stores in the UK, and £1 in every seven spent by the British consumer, expansion is running up against ever-tougher hurdles.
Early growth was easiest
For the first few decades of Tesco's growth in the 1950s, 60s and 70s, extra revenues were easily snatched from the small private grocers which used to dot Britain's high streets. Shoppers were wooed by a wider range of goods, longer opening hours (expanded to Sundays in 1994) and lower prices. This was helped by wider car ownership, which fanned the creation of US style out-of-town shopping centres. 
Now the small grocers have largely gone. Independents have less than 2% of the grocery market, mainly convenience stores which are themselves being hoovered up by small format stores from the majors.
That leaves Tesco, with just over 30% market share, facing Sainsbury, Asda and Morrison, plus the discount chains Aldi and Lidl, and niche competitors like Waitrose and the Co-op.
This is a tougher fight and is already taking a toll. Tesco's like-for-like sales growth here has slowed from 3.5% in 2008 to 3% in 2009, 2.6% in 2010 and just 1.2% in the snow-afflicted first few weeks of 2011. The fear is that, with 392 new stores in the pipeline, Tesco will both cannibalise its own sales and also be forced into a damaging price war against its rivals.
Price war won't help shareholders
While a price war would expand Tesco's sales, and cause less deep-pocketed rivals to struggle, it is unlikely to bring extra returns to shareholders because of the damage done to margins.
What about prospects abroad? Tesco's large global portfolio certainly has plenty of growth in it, but with stores dotted everywhere from Turkey to Thailand and China to South Korea, there may be a case for selling off some of the chains which are neither sizeable, fast growing nor strategically important.
The most strategic of those are China and the US. China is a real prize, where Tesco already has 94 large stores and 7.2 million square feet, more than a fifth of the space that it has in the UK. With like-for-like sales growth of 8.4%, it isn't surprising that Tesco has plans to quadruple sales there to £4 billion in the next five years.
The United States, graveyard of dozens of UK retailers' ambitions, looks to be a tougher nut to crack. Tesco's Fresh & Easy chain, now three years old, lost £165 million last year, which is £100 for every square foot of selling space. If it hasn't broken even by the end of 2012 as planned, Fresh & Easy may turn out to be the biggest strategic casualty of Philip Clarke's new job.

With a price earnings ratio of just 12 times forecast 2011 earnings the company certainly isn't expensive, and the increasingly healthy dividend yield of 3.6% allows it to be used as an income play. However, until the questions about growth are resolved, it is unlikely to recapture the kind of PE it had back in 2001, when it traded at 21 times earnings.  
Follow me on Twitter @investmtinsider 

Related links
Trade over 11,500 stocks from 23 exchanges on MSN Trader
Get more investing inspiration from the Daily Stock Theme
Free investing guides delivered to your door
Track your investments with My Portfolio
Nick Louth

Nick Louth is a specialist investment writer and an active investor. He has a portfolio column in the Financial Times, is a regular contributor to the Investors Chronicle and The Times and is author of The Bernard Jones Diaries.
New research has found that families are spending an average of £180 on back-to-school supplies for their kids. Does this tally with your experience?
Thanks for being one of the first people to vote. Results will be available soon. Check for results
Yes, that sounds about right to me

1,020 votes

Yes, but I think school supplies are getting more expensive every year

1,336 votes

No, the cost of new uniforms, stationery and sports kit takes us well past the £200 mark

1,943 votes

No, I wouldn't spend anything like that amount on the little horrors!

2,503 votes
Total Responses: 6,802
Not scientifically valid. Results are updated every minute.
The views in this blog are those of the author alone and not of MSN or Microsoft.
External links are not controlled by Microsoft, MSN (or me) and liability for visiting them cannot be accepted.