Make money selling your photos online
You don't have to be David Bailey to make money from your photos. If you're a good amateur you can make money from your snaps
Hello and welcome to my new Making Money blog.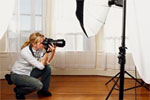 This blog is going to give you loads of ideas for making a bit of extra cash on the side. We would all like to make a bit more money and there are all sorts of fun and easy ways to make extra money, often by using your hobbies. Even if you're stuck at home there are still lots of ways you can make money. I've found hundreds of them and I'm going to share many of them with you.
To kick off, let's look at photography. Do you love taking photos? Are you the one your friends always ask to "bring your camera with you" to parties or weddings? You could make money out of it!

I'm certainly not a good photographer. I even have trouble taking photos with my mobile phone. I keep pressing the 'off' button when I want to press the shutter


But if you're a bit of a David Bailey on the sly, you could make a regular little income out of it.

How do you do it?
Thanks to the internet your digital photos can be uploaded to an online photo agency and sold to anyone around the world. If your photos are popular (and you'd be surprised what is!) you could keep getting commission from them year after year.

You don't have to be a professional either. Digital cameras are so good nowadays that anyone with an interest and a bit of an eye for a picture can take good shots. But they're not generally interested in your holiday snaps (unless there are some really cool close-ups of tropical birds or perhaps a classic deserted beach with a single palm tree shot among them). They want photos that could be used in a professional context anywhere in the world.

The best way to sell your pics is to join up to one or more of the online photo agencies. The main ones that take shots from anyone are:

Picturenation
Fotolia
iStockphoto
Alamy
123RF

Submitting your photos
Each agency has its own registration process and it might take a while to get a response once you have submitted your photos, but be patient. They all have a lot of photos coming in and many of them are not worth looking at.

They also have their own technical requirements for submissions but most follow the basic principle that if you want to submit a photo to sell, it has to be an RGB JPEG saved at a high setting (such as Photoshop level 10 setting or 48 megabytes in size). They must also be uncompressed file sizes.
On the whole, the higher the image resolution, the more you'll be paid, particularly when it comes to Alamy which tends to sell to the high-end market.

How much can you make?
Picture Nation pays the best rate. They pay 40% commission on all pictures, beginning at 40p for a subscription website resolution up to £30 for highest resolution.

With Fotolia, the minimum commission you can earn is 33% or up to 50% with a good ranking. It pays 5p for an extra small photo, £1 for a small photo and £2 for a medium photo.

The commission you make from 123RF is based on the package that buyers have, which means you could earn a different price for the same photo. The minimum amount you can earn is 35p for a blog resolution photo, and up to £1.34 for an ultra-high resolution photo.

iStockphoto generally pays 20%, but you could make up to 40% for exclusive pictures when your ranking is high (you can get a higher ranking as users vote for you). However, their rates of pay are very low and depend on the buyers, so you may not get anything for web resolution photos. This site is probably only good to look at when you can sell high resolution photos of very good quality.

Alamy supplies a high-end market of editorial, advertising and publishing companies so you have the potential to earn 65% commission. Their prices begin with £35 for a web resolution royalty-free photo, and up to £230 for the highest resolution royalty-free picture.

What kind of photos sell?
Don't think that all your pictures need to be pretty to sell. Quite the opposite. Sometimes it's very bland things like a close-up of a lightbulb or an open gate that are particularly popular. These photos are often bought by news operations and information websites which often need pictures to illustrate news stories or technical features. So if you want to make a regular income, think about topics that often have to be covered such as financial news, politics, food, health, education and weather and come up with unusual ways of illustrating them.

Be careful when it comes to selling photos of people and property though. If you take a photo with someone's face in, they have to sign a waiver form to say they're happy for the photo to be sold. If you plan to sell pictures of children you need to get their parents to sign a form to allow the images to go out.

It's the same with property. You can't just take a picture of a nice-looking house – or have a photo that includes someone's house in it – without getting the owner's permission to sell the picture. You can get free templates for waiver forms on the internet so just print some off and take them with you when you go out with your camera.

Now go through your photo library and see which ones could make you some cash!
Are you sure you want to delete this comment?
Jasmine Birtles

Jasmine is a financial expert, TV presenter, journalist and humourist. Her mission is to give practical tips to help people manage their finances by spending less, making more and investing for a secure future.
New research has found that families are spending an average of £180 on back-to-school supplies for their kids. Does this tally with your experience?
Thanks for being one of the first people to vote. Results will be available soon. Check for results
Yes, that sounds about right to me

1,007 votes

Yes, but I think school supplies are getting more expensive every year

1,319 votes

No, the cost of new uniforms, stationery and sports kit takes us well past the £200 mark

1,923 votes

No, I wouldn't spend anything like that amount on the little horrors!

2,480 votes
Total Responses: 6,729
Not scientifically valid. Results are updated every minute.
The views in this blog are those of the author alone and not of MSN or Microsoft.
External links are not controlled by Microsoft, MSN (or me) and liability for visiting them cannot be accepted.