Can you knit? Get paid for it then!
Knitting is not just for little old ladies now. It's hip and cool. Not only that, but you could be making it pay.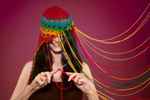 My friend Kate told me recently that when her parents divorced her mum kept the family going by knitting for designers every evening while watching the telly. It's one way to make money by watching TV and a surprising result of having a handy winter hobby.
Whether you're an avid knitter or you've never picked up a set of needles before, you could be knitting your way to profit.
I'll admit it's not something that everyone can do and you're not going to make your fortune out of it (unless you're an amazing designer and you come up with incredible creations that get snapped up by celebs).
Having a knitting machine would make it much easier to make a tidy profit but even if you're just hand-knitting for fun, you can make some cash if you're good (and quick).
The secret is to make simple, cheap items that are so attractive people will pay extra for them. It could just be one scarf pattern with a twist (literally) or clever tea cosies or a cute baby hat and mitts set. Come up with a single idea you can replicate and it will be easier.

Knitting to sell

When I went through a crazy knitting phase (it happens) about 15 years ago, I was making strawberry baby hats over and over. It was a great pattern, based on stocking stitch, very easy to do and quite satisfying. Various friends were having babies at the time so they made excellent presents. Taking that idea, you could do a range of 'fruit' baby hats with raspberry, blackberry and cute apple designs. Or you could make strawberry hats in different colours and sizes.
Once you have come up with an easy idea that will sell, you simply need to make several of them, probably in different colours and sizes, and sell them locally.
How to make money from it
There are various easy items you can produce through knitting.

The easiest, and the one everyone begins with when they learn to knit, is the scarf. Scarves can range from the big thick woollen garments worn during winter to the stylish thin acrylic scarves that are worn as fashion accessories.
The second easiest has to be the bag. Bags can be a couple of rectangles stitched together at the end with a button added to them. They can be big or small and even oddly shaped if it looks fashionable. Blankets can also be made out of squares or rectangles sewn together.
Then, of course, as I said above, it's hats - possibly hat and scarf sets (gloves are too fiddly to bother with I think).

The creative part is choosing the pattern and then deciding which wool and needles to use. Thick wool and thick needles can produce a chunky scarf, while thin wool and thick needles can produce a really loose 'holey' effect.
Alternatively, thick wool on thin needles will produce a very thick pattern and thin wool on thin needles is better for things like dish cloths and tea cosies.
If you want to get your hands on different knitting patterns, you can find them for free all over the internet (just drop the owner a line to ensure it is okay you use the pattern to profit from).
Alternatively, visit your local library for endless books of knitting patterns and instructions on new types of stitches.
I worked from a pattern in a book to make my strawberry hats but if you're really clever you could create your own patterns. If they got really popular you could suggest a knitting pattern book to a publisher.
Putting a price on your pieces


You need to cut the cost of your materials as much as possible, so any mark-up can go straight into your pocket.
Even if you're just beginning, you don't have to spend a fortune on the tools and materials you'll need. There are many ways to cut your costs:
Many knitting magazines offer freebies and you can often increase your stash of needles, markers and other bits – as well as getting a magazine full of helpful hints and tips.
Rather than buying wool full price, get it for less from charity shops like Age Concern and Oxfam. Don't get the cheap acrylic stuff, but if they're selling wholesale bundles of nice wool, go for that.
The other thing these shops are good for is knitted garments. Buy a few second-hand jumpers, take them home and unwind them. As you do this, wind up the wool into a shank, which is a figure of eight around your child's/spouse's hands or two chair legs. Voila! You'll have a huge ball of wool that cost you what retailers charge for one small ball.
Then do some market research. Look around at the prices for specially created scarves, hats, bags etc. Pick a price you think would work and see if people will bite. You can always negotiate if they're interested. Just make sure you don't go below your cost price.
Try out a stall at a car boot sale first – it will only cost you between £5 and £15 to set up there. Find your nearest car boot sale on Carbootjunction or Your Booty.
Once you're more established, you could consider going a little more upmarket, with Country Markets that are run by the Women's Institute. They'll let you sell your goods (for just 5p to join) and they'll take around 10% commission on sales to cover the costs of the market.
If you can produce enough pieces, you could even set up at a few craft shows. Living Heritage Events has an annual list of craft shows on its website, and Craft4Crafters also lists upcoming events. Craft in Focus aims to elevate the status of craft shows and Woodland Crafts is the top market organiser in the field.
You could also set yourself up with your own Etsy store online. Setting it up is free and you are able to personalise and customise your store, too! The best part is that their commission fee is only 3.5% – a lot lower than eBay's 7.5%.
Other ways to profit from knitting
If you're
really
good, you can make money like Kate's mum from knitting for designers. They sometimes advertise in knitting magazines or they contact knitting groups. Keep in contact with those if you're interested in this line of work.
You can offer to teach people on a one-to-one basis or in a class, at your house or somewhere nice like a cafe or bookshop.
If you have a website for your knitting business, for the items you sell or for the classes you give, you could also sell books of knitting patterns and ideas.
Another possibility is to set up your own website or blog and sell knitting-related products from that. Find out where you can buy wholesale books on knitting, and then re-sell them at a marked-up price. You can even sell wool from your site.

Jasmine Birtles

Jasmine is a financial expert, TV presenter, journalist and humourist. Her mission is to give practical tips to help people manage their finances by spending less, making more and investing for a secure future.
New research has found that families are spending an average of £180 on back-to-school supplies for their kids. Does this tally with your experience?
Thanks for being one of the first people to vote. Results will be available soon. Check for results
Yes, that sounds about right to me

1,043 votes

Yes, but I think school supplies are getting more expensive every year

1,372 votes

No, the cost of new uniforms, stationery and sports kit takes us well past the £200 mark

1,989 votes

No, I wouldn't spend anything like that amount on the little horrors!

2,553 votes
Total Responses: 6,957
Not scientifically valid. Results are updated every minute.
The views in this blog are those of the author alone and not of MSN or Microsoft.
External links are not controlled by Microsoft, MSN (or me) and liability for visiting them cannot be accepted.