Host a foreign student
Hosting foreign students means you make money from your spare room without the long-term commitments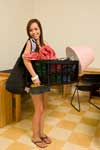 Fancy getting paid to immerse yourself in a foreign culture without leaving the comfort of your home? Well, hosting a foreign student could be your answer.

Easy, quick cash
Hosting a foreign student can provide you with a handy stream of cash and a nice break from the taxman. Foreign exchange progammes are ever-increasing, with English the most sought-after language and the UK the most sought-after destination.

If you're not sure about having someone permanently renting a room in your home, renting it to foreign students or lecturers visiting a local university or college can provide a gentle introduction. It can also work as a great way to get hold of some short-term cash in uncertain times.
Alternatively, many families rent to students for a few weeks a year to fund the annual family holiday.

You can choose between hosting students learning English as a foreign language, who are usually only here for about six weeks, or university students and lecturers who can be in the country for up to six months at a time.

Contact your local English college
There are literally thousands of English language schools, social clubs, colleges and universities around the country with students looking for places to stay while they learn. Your decision of what institution to use will be informed by what age-group of student you want, how long you want them staying for and what kind of accommodation and board you are willing to offer.

There are two types of hosting:
The first is the easiest – you are expected to provide house and board for a student who will then go to a language school or organised activities during the day. In the evenings and their free time they can come and go as they please. This is very flexible. Different schools will expect different types of board, from solely bed and breakfast to full board. You can choose whether to let the students cook, use your laundry facilities or the phone and internet.
The second option is providing accommodation and food and tuition for a certain proportion of the day. To do this you will be expected to have some sort of qualification in teaching English as a foreign language, preferably a TEFL.

Lots of language schools run summer programmes for teenage foreign students, making this the busiest time. However, during term time they have all ages of students for varying periods of time. Universities often run exchange programmes and will need accommodation for students for a term or a semester.

So get in touch with the accommodation officer at your local language school. They will have a database of host families.

To get yourself on the database you will most likely have to undergo a home-inspection, live within an easy commute of the school and may need to undergo a CRB (Criminal Records Bureau) check.

Idiom.co.uk has a list of English Language schools in the UK, as does the International Association of Language Centres and English UK. Find your nearest schools and give them a call.

If you are close to a university, visit their website and try and find the accommodation office. If they don't have a section about hosting foreign students, give them a call and see if they do it and if so how you can get involved. You can also look for adverts in your local paper and ask around.
If you live close to a university, you may also be able to host a lecturer. Even local football clubs do exchanges and need accommodation for foreign players. Put an ad up for free on Jobsgrapevine too so that anyone in your area can get in touch.

Will it make me rich?
What you can charge for hosting depends on where you live, what your home is like and what facilities you include as part of the rent. In London for bed and breakfast you can make around £100 a week, or about £150 with dinner. You can charge extra for use of the internet or to do laundry, if you are willing to. Alternatively, including this in the price is a goodwill gesture and will give you more favourable feedback, encouraging the organisation to use you again.

If you offer a posh house with a bathroom en-suite you can charge more – around £200 a week. Often mature students will prefer a double bed and en suite, so if you can offer this, then you can make more.

Outside London, the going rate can vary from about £35 to £80 per week with central locations in bigger cities getting the top prices. The organisation you host for will probably give you an idea of acceptable prices. Charging too much will dissuade them from placing students with you, so be reasonable.

Because you have a tax-free allowance on revenue made from your home, your income from renting a room is likely to be completely tax-free. You can make up to £4,250 a year before you start paying tax.

Is it expensive?
The only expenses you will incur are the extra costs of food and some extra energy costs. A good way to approach breakfast is to just have a good selection of bread, cereals and juice for students to choose from in the morning. This way they can grab whatever they want and go. If you are providing dinner, you can minimise your costs by including the student in your family evening meal.

Being tolerant and bringing the student into your family way of life, including family meals together, can make the experience more enjoyable for everybody and also save you some cash. Cooking a separate meal for them is neither cost- or time-effective.

You also need to make sure that your home contents insurance is up to date and notify your insurance company that you have paying guests.

Related links:
How to make cash from your spare time
How to sell your gold
More on family money
Jasmine Birtles

Jasmine is a financial expert, TV presenter, journalist and humourist. Her mission is to give practical tips to help people manage their finances by spending less, making more and investing for a secure future.
New research has found that families are spending an average of £180 on back-to-school supplies for their kids. Does this tally with your experience?
Thanks for being one of the first people to vote. Results will be available soon. Check for results
Yes, that sounds about right to me

1,176 votes

Yes, but I think school supplies are getting more expensive every year

1,548 votes

No, the cost of new uniforms, stationery and sports kit takes us well past the £200 mark

2,277 votes

No, I wouldn't spend anything like that amount on the little horrors!

2,895 votes
Total Responses: 7,896
Not scientifically valid. Results are updated every minute.
The views in this blog are those of the author alone and not of MSN or Microsoft.
External links are not controlled by Microsoft, MSN (or me) and liability for visiting them cannot be accepted.