Make Christmas cakes and sweets to sell
The holiday season is approaching and you can make money out of it by making Christmas cakes, sweets, biscuits and any other seasonal food to sell at your local car boot sale.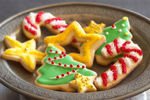 Here's an idea that is easy, fun and could include some happy times with your family and friends. Bake and sell special, seasonal cakes, sweets and biscuits. You'd be surprised how cheap they can be to make and how much of a profit you can make on them!
It's easier than you might think and you don't need to be an entrepreneurial genius to try it out.
All you need is a few good, cheap and simple recipes, some ingredients from your local supermarket, funky pans, pretty decorations and lots of creativity. On top of that you will work from home, enjoy the warmth of the oven and the lovely smells of chocolate, cinnamon and vanilla. You can have even more fun if you invite your children and friends to help you bake.
The secret here is the presentation. Don't tell anyone I told you this, but so long as the decorations and the packaging are really Christmassy and attractive, you can sell very simple cakes, biscuits and so on for quite a big profit! Shhh, I didn't say that...
Once you're ready to start, pop into the supermarket for the necessary ingredients. You can save money if you take time to compare prices and buy value packs or supermarket own-brands.
You may have some favourite recipes that always work. It could be worth using those first. However, do remember the cost of the ingredients and the electricity or gas used to cook them. Fruit cakes are very seasonal but they cost a lot to make. Will you be able to make enough of a profit on them? Make sure you cost out the ingredients and do a rough costing for the energy used to cook them. Add on the price of decorating and packaging them and then double the total amount to come up with a good price - i.e. good for you. What you then have to do is to have a look around at the shops. Are they selling similar fruit cakes for more or less than the price you have come up with? If they're selling them for more then you're home and dry. If it's less, though, you will have to think again.
The safest thing is to go for very simple, cheap cake and biscuit recipes that you can decorate to look really special. Think about sponge cakes, madeiras, shortbread biscuits, gingerbread etc. None of these cost too much to make. With a little extra spent on the icing and decoration, though, you could charge three or four times the cost of making them!
To make your cakes different from other home-made ones, add a touch of your creativity. You can get some very funky tools from Lakeland that won't cost you more than a cake you buy in a bakery and they will be invaluable for your little cake factory.
Your next step is to find customers. Probably the easiest and cheapest way to start is to try out a stall at a car boot sale. It will cost you between £5 and £15 to set up there so that will keep your costs down. Try Carbootjunction.com to find the nearest car boot sale to you.

As you're working with food it's important to research food safety standards. This time legislation is on your side and makes it very easy for you unless you decide to make a real business out of it (you never know!). Legislation says that you don't have to register if you operate on a «casual and limited» basis only. So, if you're baking for profit for less then five days in five consecutive weeks, you don't need to worry.

However, if you are planning to expand your business, do contact your local authority and ask them what the rules are in your area. Again, if you decide to make it your business, it's likely that you'll need to take a course in food hygiene. You can do this over the internet, it's very easy and will cost you £30. There's more information on how to do this here.

Wherever it leads you, have fun and good luck! And yes – feel free to send me a box of your yummy cakes!

RECIPES

Simple cupcake

What you need:

150 g butter
150 g sugar
3 eggs
1 tsp vanilla extract
150 g self-raising flour
1 tbsp milk

For the icing:

75 g butter
159 g icing sugar
1 tbsp milk
1 tsp vanilla extract
food colouring

To decorate:
sprinkles, crystallised flower petals, silver balls…(whatever you have in your cupboard!)

...and now you can start:
1. Preheat the oven to 180C/160C fan/ gas 4.
2. Cream together the butter and sugar until light, fluffy and pale.
3. Gradually mix in the beaten egg alternating with the flour to stop the mix from curdling. Finally, stir through the vanilla extract and milk.
4. Place 12 paper cupcake cases into a muffin tin and divide the mixture between them.
5. Bake for 15-20 minutes until golden and springy to the touch. Remove from the oven and cool on a wire rack.
For the frosting...
6. In a mixing bowl beat the butter with a spoon or spatula until smooth, then start to sift in the icing sugar, stirring regularly. Add the vanilla extract and milk. The frosting should be light and creamy.
7. Mix your chosen food colouring into the icing to give an even colour.
8. Once the cupcakes are totally cool, spoon or pipe the icing onto your cupcakes and finish with your chosen decorations. Then allow to set for at least 30 minutes.


Gingerbread biscuits

What you need:

450 g butter
2 tsp baking powder
4 tbsp ground ginger
1.5 tsp ground cinnamon
1 pinch cayenne pepper
1 pinch salt
250 g butter
400 g caster sugar
5.5 tbsp golden syrup
2 small eggs

...and now you can start:

1. Sift the flour, baking powder, ginger, cinnamon, cayenne and salt into a large mixing bowl.
2. Add the butter and sugar and rub until the butter is absorbed and the mixture has a sandy texture.
3. Mix in the syrup and enough of the beaten egg to make a fairly stiff, smooth dough. Shape the dough into a ball and wrap in cling film. Place the dough in the fridge to firm up for at least 45 minutes.
4. Preheat the oven to 180C/160C fan/gas 4 and grease a couple of non-stick baking sheets.
5. Roll out the dough to 3mm thickness. Cut the biscuits into your desired shapes and place on the prepared baking sheets.
6. Bake for 10-12 minutes, until golden brown then set aside to cool on the baking sheets.
7. Decorate the biscuits with piped royal icing. Store in an airtight container.


Lavender Shortbread

115 g butter
55 g lavender sugar
150 g plain flour

...and now you can start:

1. Preheat the oven to 150°C/gas 2.
2. In a mixing bowl, using a wooden spoon, cream together the butter and sugar until thoroughly blended.
3. Add the flour and mix in with your fingers into a soft dough.
4. Place the dough on a floured working surface and flatten down to 3mm thickness.
5. Using a biscuit cutter cut into shapes.
6. Place the shortbread shapes on a baking sheet lined with baking parchment.
7. Bake for 20-30 minutes until pale golden and set. Remove, cool on a wire rack and store in an airtight tin until serving.

Jasmine Birtles is editor of Money Magpie
Related links
Make money from online surveys
Jasmine Birtles

Jasmine is a financial expert, TV presenter, journalist and humourist. Her mission is to give practical tips to help people manage their finances by spending less, making more and investing for a secure future.
New research has found that families are spending an average of £180 on back-to-school supplies for their kids. Does this tally with your experience?
Thanks for being one of the first people to vote. Results will be available soon. Check for results
Yes, that sounds about right to me

1,006 votes

Yes, but I think school supplies are getting more expensive every year

1,316 votes

No, the cost of new uniforms, stationery and sports kit takes us well past the £200 mark

1,918 votes

No, I wouldn't spend anything like that amount on the little horrors!

2,475 votes
Total Responses: 6,715
Not scientifically valid. Results are updated every minute.
The views in this blog are those of the author alone and not of MSN or Microsoft.
External links are not controlled by Microsoft, MSN (or me) and liability for visiting them cannot be accepted.