Football spending: a tale of two halves
We asked you how much you spent on following football last season. Here are the full-time results.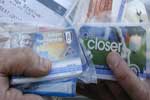 The curtain has now come down on the 2010/11 domestic football season – nine months of sweat, joy/tears (delete as applicable) and a lot of money.
We ran a poll here on MSN Money asking you how much you spent on following football over the past season. Over half of you spent less than £100, but nearly a quarter spent over £1,000. And 14% of those fans spent over £2,001 following their favourite team. That's over £50 a week over the course of a 39-week season.
Matchday tickets are now just the tip of the iceberg when it comes to splashing out on your club. There's the team shirt, matchday programmes, souvenir DVD, TV sports channel subscriptions. And then there's the cost of travel to and from matches, food and drink... the list goes on.
A league of its own when it comes to money
Football, at Premier League level anyway, seems to be fairly immune to the prevailing economic climate. Ask Liverpool fans, who are going to have fork out an inflation-busting 6.5% extra for an adult season ticket for 2011/12. And this after another trophyless season. But the demand is there. Manchester City have followed their FA Cup success with a 6% increase.
In the case of QPR, promotion to the Premier League has been followed by a 40% increase in season ticket prices, which led to the resignation of vice-chairman Amit Bhatia.
If you're curious about how much you spend on football over the course of a season, and how that breaks down every week and month, take a look at our new football cost calculator.
Related links
Who got the most Premier League goals for their money?
The most expensive sporting tickets
Football's richest clubs
The latest football news on MSN Sport
MSN Money

MSN Money is one of the most popular financial websites in the UK. As well as all the news and guides, we have innovative tools and calculators, helping you make the best financial decision.
When did you last switch your current account?
Thanks for being one of the first people to vote. Results will be available soon. Check for results
In the last six months

30 votes

In the last two years

27 votes

In the last three years

17 votes

In the last five years

55 votes

I have never switched current accounts

430 votes
Total Responses: 574
Not scientifically valid. Results are updated every minute.
The views in this blog are those of the author alone and not of MSN or Microsoft.
External links are not controlled by Microsoft, MSN (or me) and liability for visiting them cannot be accepted.