Why do banks drive us mad?
Bizarre opening hours, failure to return calls, confusing jargon… what irks you most about your bank?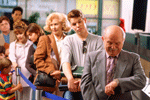 Banks. They're not exactly our favourite institutions in the world, are they? But what is it about them that evokes such strong feelings in us?
On the surface, they hold our money in a safe place and allow us to (generally) access it for free whenever we want. If anything, we should be fans of our banks.
Yet many banks consistently score poorly in customer satisfaction polls and the Financial Ombudsman has to deal with a million of complaints from upset customers each year.
So what's the problem?
"We have an important message for you"
In order to get to the bottom of this once and for all, I thought I'd share my personal banking bugbears and invite you to share your own in the comments section below.
So allow me to get the ball rolling. I was heading from one meeting to another when I received a call from a certain bank. They said they needed to talk to me about an important issue, but only, of course, after I'd answered half a dozen security questions.
Naturally I was keen to help, worrying that my account had been hacked and my limited funds drained. Inquisition over, it turns out they had an amazing new credit card that they just couldn't wait to tell me about.
Five minutes of my life I couldn't get back, just to listen to an unsolicited sales pitch.
When I told them I wasn't interested, they quickly interrupted by saying they would call back at a later time and then hung up. If I didn't want their card on Tuesday, why on earth would I want it a week later (when they phoned and offered it again)?
So cold calling to sell products is a big problem.
Hello, anybody there?
Ah, the banking call centre. Guaranteed to leave even the most mild-mannered Brits tearing their hair out within 30 minutes.
First, you have to navigate a seemingly endless maze of numbers to find the correct department ("For credit card queries, press one...") only to end up in the wrong department anyway.
Cue getting transferred from one department to another before finally meeting someone who can handle your query, but it'll require a manager to authorise it. Sadly, all managers are unavailable at this time, so would you like one to call you back at a convenient time? Yes please.
On the off chance you actually do hear back from them, it's usually two hours after you went to sleep.
So, yes, telephone banking services are definitely a sore point.
The lunch time free-for-all
You have some banking to do, but when will you find time? It's not like the bank will be open after work, so that means we'll have to do the mad lunch hour dash –along with half the adult population.
And the onslaught begins. Endless queues that hardly seem to move (and that gnawing concern you aren't in the right one anyway) as people trying to carry out the simplest of tasks. And what is the deal with those pens on chains?
It's not so much the insinuation that we're going to steal them, it's the fact it's so short that you have to contort your body into some unnatural shape just so that the pen can reach all sides of the documents.
While writing this I heard a wonderful anecdote from my colleague, who wanted to process a cheque in branch - the clerk told him that personnel could not do this for him. Rather, it had to be done by machine. She then walked him over to said contraption and then carried out the entire transaction for him. So apparently they can process cheques – why the additional hassle?
Yes, in-branch banking is definitely worthy of the list.
Mystifying actions?
An associate on Twitter shared another bizarre customer service blip that I'm sure many of us can relate to. He recently advised his bank of a change of address. Simple enough, you'd think. Except that they sent confirmation letter of records amended to old address.
That goes on the list.
So much more
In truth, this is only the starting point, and I've rattled on for long enough now, so why not share your own bugbears?
Is it the mystifying small print? Best deals being reserved for new customers? Miserly interest rates? Thoughts and comments go below, or you can just tweet me.
A mini disclaimer
I want to stress that, of course, not all banks are bad. Not all of them cold call, or reserve their best rates for newcomers.
Indeed, I switched to a new provider a year ago and have not looked back. Sure, the rates could be a little better, but the service has been exemplary and I have no complaints. (Still wouldn't go as far as to say I love them, though…)
Are you sure you want to delete this comment?
MSN Money

MSN Money is one of the most popular financial websites in the UK. As well as all the news and guides, we have innovative tools and calculators, helping you make the best financial decision.
New research has found that families are spending an average of £180 on back-to-school supplies for their kids. Does this tally with your experience?
Thanks for being one of the first people to vote. Results will be available soon. Check for results
Yes, that sounds about right to me

1,166 votes

Yes, but I think school supplies are getting more expensive every year

1,540 votes

No, the cost of new uniforms, stationery and sports kit takes us well past the £200 mark

2,263 votes

No, I wouldn't spend anything like that amount on the little horrors!

2,884 votes
Total Responses: 7,853
Not scientifically valid. Results are updated every minute.
The views in this blog are those of the author alone and not of MSN or Microsoft.
External links are not controlled by Microsoft, MSN (or me) and liability for visiting them cannot be accepted.