Why we are poorer than our parents
A new radio series is examining the wealth gap between the baby boomers and their children. But it's really quite simple.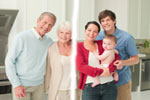 This weekend, renowned financial guru Alvin Hall hosts the first episode of a new four-part series on Radio 4 called Poorer Than Their Parents. Its premise, according to the blurb accompanying the series, is to examine "whether today's youth will be the first for generations to be worse off than their parents".
Our parents' generation, the so-called 'baby boomers', have taken a lot of flak over the past year. Conservative frontbencher David Willetts' 2010 book The Pinch estimated that, of Britain's £6.7 trillion pile of personal wealth (including property, investments and pensions), the baby boomers were worth £3.5 trillion. And the over 65s were worth £2.3 trillion. All of us under 45 own just £900 billion.
Now, you might argue that there is an obvious disparity between the wealth of older people compared to younger generations. They've worked longer (so have bigger pension pots), they've paid off or are close to paying off their mortgages. But, in this case, the wealth gap actually looks like more of a chasm.
How the baby boomers benefitted
And if we look at some of the things that the baby boomer generation benefitted from – massive house price inflation, generous final salary pensions, free education – it's clear how they've accumulated all that wealth. I know of retirees who earn almost as much from their pensions as they did during their working life.
Now look at Austerity Britain 2011 with its high house prices, reduction in pensions and massive increase in student tuition fees and it's clear to see why this disparity exists. That's not to deny that many baby boomers are helping their children and grandchildren out, for example with savings to fund education or part of a deposit to help them onto the property ladder. But debt seems to come as a given in the financial lives of anyone born from the 70s onwards.
"We cannot just fold our arms and let improvements in technology discharge our obligation to future generations," Willetts wrote in response to criticism of his book by Boris Johnson. And that hits on an important point – while technology invented by that generation has improved much of our lives and, crucially, our life expectancy, it will not pay for our futures. Or indeed our present.
So I would argue it doesn't take a four-part radio series to uncover why we're poorer than our parents, the answers are plain for all to see.
Simon Ward, Senior Editor, MSN Money
Related links:
Video: Alvin Hall's saving tips
How to teach kids the money-saving habit
Ways to save for university fees
Are you sure you want to delete this comment?
MSN Money

MSN Money is one of the most popular financial websites in the UK. As well as all the news and guides, we have innovative tools and calculators, helping you make the best financial decision.
When did you last switch your current account?
Thanks for being one of the first people to vote. Results will be available soon. Check for results
In the last six months

74 votes

In the last two years

68 votes

In the last three years

46 votes

In the last five years

155 votes

I have never switched current accounts

1,085 votes
Total Responses: 1,480
Not scientifically valid. Results are updated every minute.
The views in this blog are those of the author alone and not of MSN or Microsoft.
External links are not controlled by Microsoft, MSN (or me) and liability for visiting them cannot be accepted.