Fancy a 29p Chocolate Orange?
Tesco pricing error sees Terry's Chocolate Oranges sold at a 90% discount – and it's just the latest in a list of blunders from the supermarket.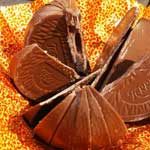 Everyone loves a bargain. So it's perhaps unsurprising that Tesco was inundated by chocolate lovers when it started flogging Terry's Chocolate Oranges for just 29p instead of the recommended £2.75.
But it wasn't a gesture of goodwill from the supermarket giant. Rather, it was a pricing glitch that resulted from two discount offers being applied to the same product.
Cue shoppers literally buying trolley loads of the chocolate orbs as the word spread rapidly on social media (a Facebook page was even set up in honour of the occasion, aptly titled Terry's Chocolate Orange glitch: I was there).
Unsurprisingly, Tesco weren't quite as enthusiastic about the deal and moved to shut down the erroneous offer soon afterwards.
How it happened
The problem arose because there were two separate discount offers applied to the product – a buy-one-get-one-free​ (BOGOF) and a multi-buy.
So here's how it worked. One chocolate would set you back £2.75, but thanks to the BOGOF it meant you essentially got a discount of £1.37 and a half pence when you bought two.
Then comes the buy-three-for-£5 offer, which equates to a further discount of £3.25. Add it all up and it meant anyone buying six paid just £1.75, instead of the recommended £16.50. Every little helps!
Merry offer at Tesco
It's merely the latest in a string of pricing blunders at Tesco. In the past, we saw an error at a number of Scottish stores that allowed customers to buy three boxes of alcoholic beverages for £11 instead of £20, a saving of almost 50%.
In another instance, the supermarket was forced to pull its 'Double the Difference' campaign, which promised to pay customers twice the difference in price if they could find products cheaper elsewhere.
Savvy shoppers soon figured out they were indeed able to buy cheaper goods at rival Asda and thus pocket a tidy sum when they took the receipts to Tesco.
We're sure Asda's bigwigs enjoyed that. They were probably less pleased, however, when they learned that one of their stores was selling petrol for just 12.9p after staff put a decimal point in the wrong place.
Reports at the time described a 50-long motorcade of motorists desperate to benefit from the bungle at the Rooley Lane, Bradford petrol station.
You win some, you lose some
But before you start feeling sorry for the supermarkets, it's worth remembering that such glitches often go against us.
The old adage goes that buying bulk is the best way to save, but a report from consumer magazine Which? earlier this year found numerous examples where supermarkets were charging customers more for multi-pack items than those sold individually.
The lesson? Always do the sums before dropping it in your trolley.
Have you ever come across a mispriced bargain? Or maybe a massively overpriced product? Share your experiences below.
Are you sure you want to delete this comment?
MSN Money

MSN Money is one of the most popular financial websites in the UK. As well as all the news and guides, we have innovative tools and calculators, helping you make the best financial decision.
When did you last switch your current account?
Thanks for being one of the first people to vote. Results will be available soon. Check for results
In the last six months

20 votes

In the last two years

15 votes

In the last three years

10 votes

In the last five years

30 votes

I have never switched current accounts

254 votes
Total Responses: 340
Not scientifically valid. Results are updated every minute.
The views in this blog are those of the author alone and not of MSN or Microsoft.
External links are not controlled by Microsoft, MSN (or me) and liability for visiting them cannot be accepted.