No one should be surprised the Olympics is bad for business
Reports of dwindling customers is nothing new - just ask any city that's hosted the Olympics.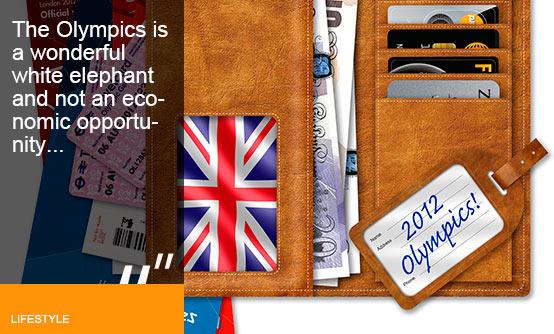 London has become 'a ghost town', the headlines scream. The Olympics are 'a disaster' for local businesses, the newsreaders warn.
Yet the only thing that surprises me is how shocked everyone is. We need only look at previous Olympics to see there is little economic benefit.
Many small businesses in the capital are telling reporters that sales are down 50% compared to this time last year.
One report shows hotel occupancy fell 8.4% in early summer. Both locals and tourists are keeping away in their thousands, scared off by fears of rammed trains, gridlocked buses and an army of sports fans.
"We're bleeding, darling," the chief executive of Nimax Theatres Nica Burns told the Financial Times.
The government needs to learn an important lesson: repeating a thing over and over again does not make it true. The Olympics has not been an economic opportunity for the tiny businesses that rely on tourists to scrape a living. For some already struggling, it will have been their death.
Visitors to the beach volleyball won't be calling in at the Tower of London on their way back to the hotel.
But this shouldn't be a surprise - it's happened before. In Beijing, in Sydney, in Athens…
And we have been warned. A report by the European Tour Operators Association warned in 2006 that sport tourism has no spillover. Visitors to the beach volleyball won't be calling in at the Tower of London on their way back to the hotel.
Perhaps the worst thing about overhyping the business opportunity of the Games is that small, local companies were put at risk.
They were promised a massive influx of tourists by an over-excited government. So what did they do? They ordered extra stock, took on extra staff and extended their opening hours.
The UK needs to report how the Games affected the shops, hotels and restaurants
 Of course, when the promised extra customers didn't materialise, when numbers fell compared to this time last year, that extra investment simply became extra loss.
The London 2012 Games have been incredible and I am proud of our athletes and our capital.
But perhaps the best legacy that could arise from 2012 is for the UK to honestly assess and report how the Games affected the shops, hotels, restaurants and myriad of small traders.
That way, aspiring host nations can see the Olympics for it really is – a wonderful white elephant and not an economic opportunity.
Felicity Hannah is a personal finance journalist living in the north of England.
IS THE OLYMPICS REALLY BAD BUSINESS? LET US NOW IN THE COMMENTS SECTION BELOW OR USING #SOCIALVOICES ON TWITTER
Welcome to #socialvoices. This is the home of sharp writing, opinion and social debate on MSN. Jump into the comments, tweet us with the hashtag. Join in.
What current account benefit would you like more of/value the most?
Thanks for being one of the first people to vote. Results will be available soon. Check for results
Medical/life insurance

133 votes

Tickets for cultural or sporting events

15 votes
Total Responses: 364
Not scientifically valid. Results are updated every minute.